Welcome To My
Moon Pictures Page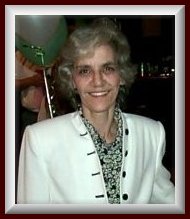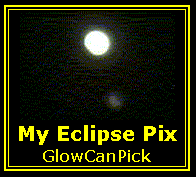 It was about 30 degrees and got lots colder as the night went on. I had a PJ bottom on under my slacks and that helped me to stay warm.
I'd run out, snap a picture then come back in for about 5 min. then do this repeatedly till 12:30. I started at 9:30. If I had a taller tripod I probably could have gotten more shots. Mine is 55 in. tall fully extended.
When I saw the predicament that I was in I took the camera off of the tripod and tried to at least see what the moon looked like through the view-finder. I couldn't even find it. It wouldn't even show up on the LCD screen of the camera.
I didn't edit the pix because some of them have a little something scattered here or there.. Enjoy!






My Shots of the Moon
Kodak Digital 265 set at 5x zoom
It helps to center things in the beginning.
There are places where there are reflections
of the ???, and even some stars
if you shift the pages around.
The Pix were taken between
9:30 and 12:30 PM EST
They're all here now.



Wiggly Moon 599 597

**********More Moon Pix Here**********



It's now 12:30 PM
The camera on the tripod was pointed
Straight Up and I couldn't get under it
any more to adjust it.



---
---
---
John's Lake

---
---
See my Graphics

---
---
---
GlowCanPick's Guestbook
I have 2 Guestbooks because sometimes one's not working and I don't repair guestbooks!
View My Guestbook
Sign My Guestbook
GlowCanPick@wycol.com

My MIDIS